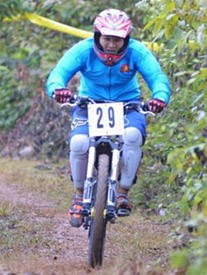 Thuy Trang -the hope of Viet Nam's mountain bike team
The Asian Mountain Bike Championships will be held in Viet Nam for the first time ever later this month.
Over four days from October 26, cyclists from China, Hong Kong, Indonesia, Japan, Korea, Lebanon, Macau, Malaysia, Nepal, the Philippines, Singapore, Taiwan, Thailand and the host nation will ride the rough trails of An Giang Province in the Mekong Delta.
Among the highlights will be a 1,500-meter race dropping nearly 200 meters in elevation down a mountain side, and another around a five-kilometer track just two meters wide.
The dope-testing and media centers and the mobile toilets are already in place for the 12th running of the regional showdown, as the fire trucks and ambulances are ready when they will be needed.