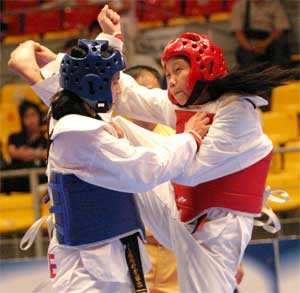 Vietnamese woman Kim Linh (R) beats a Taiwanese in the tournament's 63 kg final (Photo: SGGP)
Viet Nam, represented by four teams, obtained 21 golds, 23 silvers and 43 bronzes in both combat and performance, winning the Samsung Taekwondo Championships Viet Nam Open 2006 in Ho Chi Minh City on August 25-27.
The Republic of Korea ranked second with 13 golds, five silvers and three bronzes. Taiwan, with six teams, came third after grabbing seven golds, 10 silvers and 21 bronzes.
Earning one gold, three silvers and two bronzes, Thailand ranked fourth, followed by Malaysia with one silver and one bronze.
Malaysia, the Republic of Korea, Taiwan, Thailand, the USA and Viet Nam took part in the tournament, staged at Phan Dinh Phung Indoor Stadium in District 3.
The 15th annual open tournament was the first time in which the athletes competed in both combat and performance. There were six sets of medal for performance and 30 for combat.
Another detail was that foreign teams did not send their best athletes to the tournament, and not all Vietnamese taekwondo aces joined because they are preparing for the Viet Nam Games 2006, scheduled in September.