Both of the first two matches of the Spring Football Cup in Ha Noi ended with a draw on April 16, 2006 but U-23 Uzbekistan and the host Viet Nam took the lead due to their goals.
Viet Nam tied 2-2 with the Uzbek side at My Dinh National Stadium after the scoreless draw between U-23 Australia and U-23 Iran at the same venue.
Viet Nam fans displayed a 20meters x 30meters Vietnamese flag at a corner of the stadium and chorused all the time to encourage their all-red-jersey team. Both the host and U-23 Uzbekistan played whole-heartedly right at the beginning.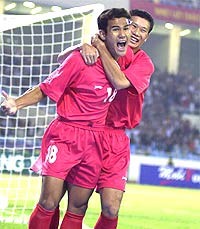 Phan Thanh Binh (L) celebrates the first goal in the cup with Thach Bao Khanh (Photo: VnExpress)
The red-jersey team took the lead just 12 minutes into the game after striker Phan Thanh Binh escaped the Uzbek offside trap and scored the first goal of the four-team tournament. 

The players from central Asia struck back strongly after the goal. Taller than the Vietnamese players, the Uzbek side made use of this advantage and targeted goalkeeper Quang Huy with many high crosses. Striker Erkinov's header from a cross by Yuldashev at the 29th minute left goalie Huy no chance, and the game was equalized.
Five minutes later, Binh's cross put striker Le Cong Vinh into a good position but Vinh's finish missed the goal when he faced Uzbek keeper Tojiboyev. Vinh missed another good chance four minutes later as he escaped the other side's offside trap and faced Tojiboyev again.
Just four minutes after the break, all-white-jersey Uzbekistan advanced also with a header by Erkinov, who equalized for his team in the first half. From a free kick on the left wing, he was faster than Vietnamese defenders to score a goal with his head.
The white-jersey players pushed for more press after this goal and the host team had fewer space than before. The crowd on the stands worried like coach Alfred Riedl, who had already prepared some substitutes. But the game was equalized while the host players could not make as many attacks as before.
At the 65th minute, midfielder Thach Bao Khanh drove the ball rapidly to the corner kick position and suddenly turned back. His cross into the box passed Uzbek defenders and Viet Nam captain Nguyen Minh Phuong from behind made a header, beating the Uzbek keeper.
In the earlier match, both U-23 Australia and U-23 Iran created many scoring chances but they missed or both goalies made good saves to keep their net clean.
All four the competing teams gained one point after the first round. In the second round on April 18, Uzbekistan will play against Iran before Viet Nam meets Australia.