Austrian national Alfred Riedl tendered his resignation as coach of the Vietnamese national Men Football this morning after his team suffered a loss to Myanmar yesterday.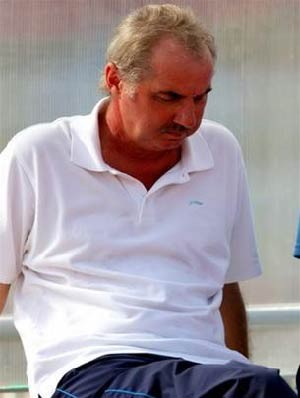 Viet Nam's Coach Alfred Riedl disappointed over a loss to Myanmar

Alfred, whose official contract with the Viet Nam Football Federation (VFF) would otherwise last till next April, will receive a compensation of US$30,000.
Reports said that if VFF dismissed Riedl now, they would have to pay a penalty of US$80,000.

As coach of the Viet Nam's Football Men Team, Alfred helped U-23 Viet Nam achieve some successes, such as silver medal in Tiger Cup 1998; bronze in Dunhill Cup 1999; silver in SEA Games 1999, 2003 and 2005; silver in LG Cup 2003.
Moreover, Viet Nam also had opportunities to compete in the semifinal of Asian Cup 2007 and Round 3 of Olympic 2008.

However, some sport analysts blamed his weak and inflexible strategies for some unexpected losses.

According to VFF, deputy coach Mai Duc Chung will take over Alfred's post in a match against Singapore on December 14th. However, he will just be acting coach until VFF finds a replacement.

Related article:
Myanmar Shatters Viet Nam's Golden Football Dreams at SEA Games