Viet Nam's Olympic football team is on the way to Oman's capital city, Muscat, for its group C Olympic qualifier against the host team.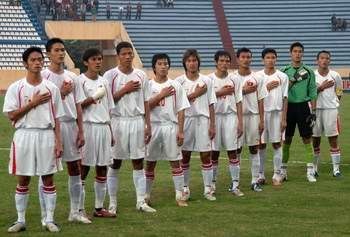 Viet Nam's Olympic football team
The team left Ha Noi at 10:00 am today and will reach Muscat 18 hours later on March 27 after stopping in Hong Kong and Qatar. Coach Mai Duc Chung is worried that the grueling journey will take its toll on the players.

After defeating Lebanon 0-2 and Indonesia 0-1, Viet Nam is looking for at least a draw with Oman, the coach said adding that he will use defensive formations with only one striker (Phan Thanh Binh).
Vietnamese coach Ngo The Bang will temporarily lead the national female football team during its Beijing Olympics 2008 campaign while the Viet Nam Football Federation (VFF) looks for a foreign coach.

At present, they are looking at North Korean Ri Whi Chol to fill the position. Mr. Chol is currently looking after Ha Noi's female football team whose game, under the 54 year old coach's instruction, has improved markedly.

Mr. Chol formerly coached North Korea's national female team, who are currently ranked number 1 in Asia.
For the moment though, coach Ngo Le Bang is pinning his hopes on a 4-5-1 formation that he hopes might stop strong strikers from Japan and Korea. The national team is also scheduled to take part in three friendly matches with local teams.