Though Myanmar was considered a strong team, Viet Nam accomplished their target in the 24th SEA Games' semifinal against Myanmar in Thailand's Municipality of Nakhon Ratchasima Stadium yesterday.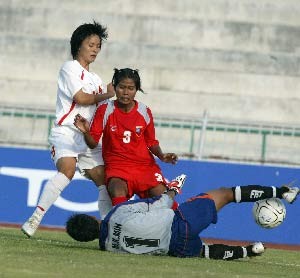 Vietnamese player Minh Nguyet (L) tries to break through the defense of Burmese goalkeeper Yanmin
Early in the first half, Vietnamese players did at least two dangerous attacks which involved a raid of Vietnamese captain Kim Chi in Myanmar's penalty area but missed.
Burmese players soon recovered their strengths and their self-confidences and pushed the Vietnamese players back to their defender line.

The whole Viet Nam's team then seemed to lose self-control and made unwarranted mistakes, showing some shortcoming in defense. As a result, Burmese promptly caught this opportunity to take the lead in the 40th minute.

The first half closed at a 0-1 loss for Viet Nam.

Since the beginning of the second half, Vietnamese Coach Tran Van Phat encouraged his players to strengthen their attacks to the dangerous spot of Myanmar aiming at an even score.

Five minutes later, Ngoc Cham evened the score by doing a good solo performance past Burmese defenders before delivering a perfect pass to Chi who kicked the ball flying over Burmese goalkeeper Yamin.
In the first extra time, Vietnamese focused their strength on the attack line and soon found their victory at the 101st minute.

That was not all. In a final score for Viet Nam, Minh Nguyet kicked the ball into Myanmar's goal but failed when it bounced off Yanmin. Undaunting, she did another kick and this time successful.

The game ended with a 2-1 victory for Viet Nam.

Viet Nam will meet their final rival, Thailand, in the final on December 13th.