Vietnam defeated Singapore 1-0 in the second-leg semifinal of the regional football tournament on Sunday to play the final with Thailand, who edged out Indonesia Saturday.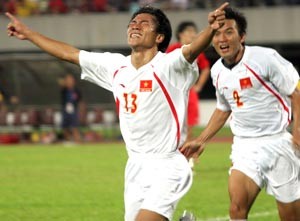 Nguyen Quang Hai celebrates his goal (Photo: SGGP)
Striker Nguyen Quang Hai sent Vietnam into their second final in the history of this regional tournament when he scored in the 75th minute of the match with Singapore at their National Stadium. Vietnam won 1-0 on aggregate after the two teams' scoreless draw in Ha Noi five days earlier.
Quang Hai's crucial strike sent defending champions Singapore out of the competition and broke their dreams of a record fourth title. Vietnam will play their arch rivals and three-time champions Thailand in the final of the AFF Suzuki Cup on Dec. 24 and Dec 28.
Actually, at their home stadium, the Lions were better in ball control but they did not score at all. Several of their scoring chances were denied by goalie Duong Hong Son.
As predicted, the visiting side faced lots of pressure as the defending champions took advantage of their home game well. They were strongly supported by the spectators who filled up the stadium with the hope of the fourth title.
Raddy Avramovic's side organized continual attacks targeting keeper Son and they missed several chances, including the best in the first half when Shi Jiayi's corner kick was saved by Nguyen Vu Phong in the back box. Striker Noh Alam Shah twice came close in the first half.
After the break, Vietnam coach Henrique Calisto made some changes when striker Nguyen Quang Hai replaced Nguyen Viet Thang, and Le Tan Tai replaced midfielder Pham Thanh Luong. Hai and goalie Son became the heroes of the Vietnam side.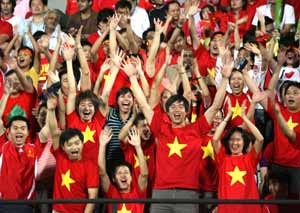 Cheering Vietnamese fans at the National Stadium of Singapore during the Singapore vs. Vietnam match Sunday (Photo: SGGP)

While Singapore were making attacks and in a quick counter-attack, Vietnam striker Le Cong Vinh stormed down the left flank, passing the defenders and made a convenient low cross for Hai over Singapore keeper Lewis' arms. Hai did not miss the golden chance, putting the ball into the net.
This score was also the score Singapore defeated Vietnam in Ha Noi in the final of the regional tournament in 1998, destroying Vietnam's dream of taking the trophy and bringing home the first title.
Coach Henrique Calisto said after the match, "Our fans, not just the ones here but many at home, are great and they deserved this victory. This win tonight is dedicated to them."
Vietnam defender Doan Viet Cuong cannot play the first-leg final with Thailand in Bangkok on Dec. 24 as he was sent off in the game with Singapore. Four days after the first leg, three-time champions Thailand will meet Vietnam again in Ha Noi.
In the semifinals, Thailand beat Indonesia 1-0 in Jakarta on Dec 16 and 2-1 in Bangkok Saturday.