Vietnam Sports Delegation continues to grab more six gold medals in chess, shooting, athletics and Muay on December 17.
At this time, Vietnam had 48 gold medals and still ranks the second position in the medals tally at the 27th SEA Games after Thailand.
In the fast chess category, chess player Nguyen Ngoc Truong Son was given a gold medal after drawing in the last game of chess.
This is the second gold medal that Nguyen Ngoc Truong Son grabbed in the 27th SEA Games. Earlier, Truong Son won a gold medal in blitz chess event.
The other Vietnamese players Nguyen Duc Hoa won one more silver medal in the same category. In the women's blitz chess category, Pham Le Thao Nguyen also grabbed a silver medal for Vietnam Sports Delegation.
In the Muay, Vietnamesese athlete Bui Thi Quynh beat Thailand to bring one more gold medal in women's 48kg weight category.
In the women's 100 meters athletics, Vu Thi Huong contributed to Vietnam more one gold medal with a victory of 11 seconds.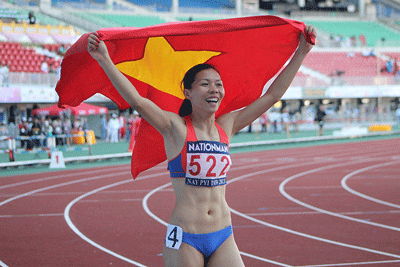 Happy face of athlete Vu Thi Huong after she won a gold medal for Vietnam (Photo: SGGP)
In the men's 5000 meters athletics, athlete Nguyen Van Lai brought a gold medal with achievement of 14 minutes 19 seconds. Also in athletics category, Do Thi Thao and Vu Thi Ly grabbed a gold and silver medal in women's 800 meters athletics.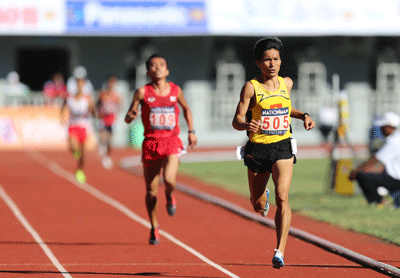 Athlete Nguyen Van Lai brings a gold medal for Vietnam with achievement of 14 minutes 19 seconds (Photo: SGGP)
In shooting category, shooters Trieu Thi HoaHong, Le Ngoc Mai and Nguyen Thuy Dung achieved 1.706 points and were given a gold medal.
In archery, in the final round of women's team archery competition, Loc Thi Dao, Duong Thi Kim Lien and Nguyen Thi Quyen Trang won a silver medal after losing to Indonesia.
In rowing, Vietnamese women rowing athletes included Bui Thi Nhat, Nguyen Thi Trinh and Pham Thi Thao competed excellently to grab one silver medal, scoring a victory in 7 minutes 9 seconds. Myanmar won a gold medal with achievement of 7 minutes 7 seconds.
In men's team crowing category, Vietnam team was given a bronze medal. Gold medal went to Indonesia and the silver medal went to Thailand.
In women's volleyball category, Vietnamese women volleyball team will attend in the final round after Vietnam beat Malaysia with a victory 3-0 in the last time. Accordingly, Vietnam will meet Thailand in the final round.