The second Vietnam International Judo Tournament 2016 – the People's Police University Cup officially kicked off on October 29 in Ho Chi Minh City.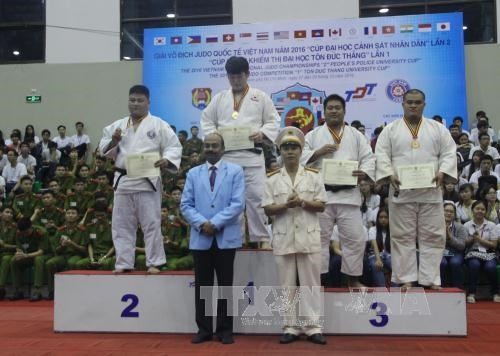 Athletes received medals after the opening ceremony (Photo: VNA)
This year's event involved 200 Judo athletes from 11 countries and territories such as Canada, France, Switzerland, Singapore, Thailand, Laos and Vietnam, among others.
Host Vietnam sent five teams to compete at the game, including the national Judo team, the national youth Judo team, the Ministry of Public Security's Judo team and the People's Police University judo team.
Athletes vie at 16 fighting categories for both male and female divisions along with the Nage No Kata and Juno Kata performance catergories.
The event also saw the competition of blind judo athletes in five weight classes of Para Judo.
Up to 23 sets of medal will be awarded to winners of each categories and cups to three delegations with the most medals.
Leaders of the Southeast Asian Judo Federation will supervise the event to appraise the tournament before recognising it as an official regional tournament, said the organising board.
Four matches took place following the opening ceremony, seeing three athletes of the Republic of Korea and one Vietnamese, Nguyen Thi Thuong, taking golds
The games, held by the Ho Chi Minh City Judo Federation in collaboration with the People's Police and Ton Duc Thang University, runs through October 30.