Vietnam scored twice in the first half to stun Thailand in the first leg of the ASEAN championship final in Bangkok Wednesday, taking a huge step towards being crowned regional champions again after 10 years.
In 1998, Vietnam defeated Thailand 3-0 in Hanoi in the semifinals of the championship but lost 0-1 to Singapore in the final. A dream for being champions ended. At that time, the semifinals and the final were played in one match only, not the first leg and second leg as present.
But in the Christmas night on Wednesday, Vietnamese fans wished the final were played in just one game because if it had been the case, their team had held up the trophy right at Rajamangala Stadium in Bangkok.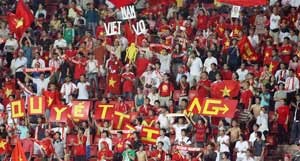 Cheering Vietnamese fans in Bangkok's Rajamangala Stadium on Wednesday night (Photo: SGGP)
Anyway, Vietnamese fans had a sleepless night on Christmas Eve after Vietnam beat Thailand 2-1 at that Rajamangala Stadium.
The Thais dominated the first half but were caught out by a header from midfielder Nguyen Vu Phong in the 42nd minute and another score by striker Le Cong Vinh two minutes later.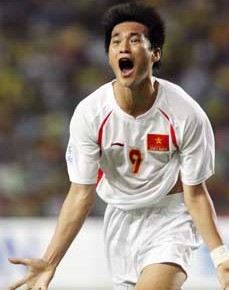 Le Cong Vinh celebrates his goal (Photo: SGGP)
The visiting Vietnamese side played a patient game but the two goals were scored during their counter-attacks.
The Thais were looking to make the most of home ground advantage and went close after nine minutes when captain Datsakorn Thonglao set up for an unmarked Natthapong Samana, who sent his header straight at Duong Hong Son. Actually, the keeper made a series of brilliant saves to keep his net clean in the first half.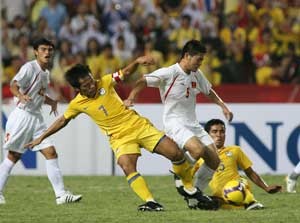 Vietnam's Nguyen Minh Chau (in white) challenges Thai captain Thonglao during the Thailand-Vietnam game in Bangkok Wednesday (Photo: SGGP)
The side of former Manchester City and Sunderland coach Peter Reid kept attacking but their players failed to net.
After the break, Thailand played very high and very close to goalkeeper Son. Substitute Ronnachai Rangsiyo pulled a goal back for three-time champions Thailand immediately after coming on in the 75th minute but the home side were denied an equalizer when Teerasil Dangda was ruled offside by the referee a minute later.
The keeper made another fine save to keep out a 25-metre free-kick by substitute Arthit Sunthornphit with eight minutes remaining as the Vietnamese held on for victory, leaving the Thais with plenty of work to do in the return match in Ha Noi on Sunday, Dec. 28.
Vietnam coach Henrique Calisto said after the match, "It was a good game with good pressure and we scored through two good counter-attacks."

"But we have to realize that we have won nothing where there's still the other 90 minutes in Hanoi. We have to be careful for the next match because Thailand will try their best to look for a win."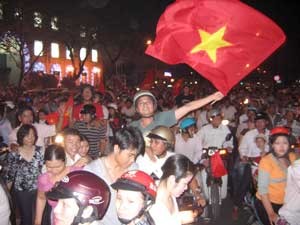 Ho Chi Minh City fans flood the streets after Vietnam's win (Photo: SGGP)
Thailand coach Reid said, "It is not over and while we played some good football, we were a little naïve when we conceded the goal."
"We created a lot of chances and there is no argument on the disallowed goal."
He added the different point between the two teams in the game was keeper Hong Son.
In Vietnam, fans celebrated their team's win across the country on Christmas Eve. Many said that the victory was a great Christmas present. Crowds paraded in such big cities as Ha Noi, Hai Phong, Hue, and Ho Chi Minh City overnight, shouting "Vietnam champion".
In the past few days, Ha Noi has seen a fever for tickets for the Vietnam vs Thailand match this Sunday at My Dinh National Stadium.