Two Vietnamese gymnasts Nguyen Tuan Dat and Dinh Phuong Thanh yesterday evening won two gold medals at the 2016 World Challenge Cup in Szombathely city of Hungary.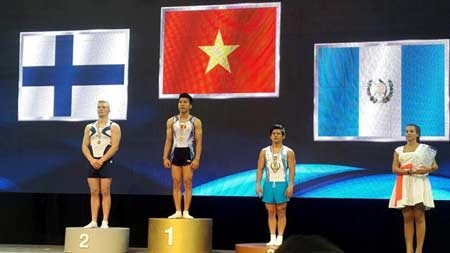 Nguyen Tuan Dat (C) wins gold medal.
Nguyen Tuan Dat owned the first gold medal in men's horizontal bar event after achieving 14, 899 points.
Nguyen Tuan Dat  was also named 'Shirai-Nguyen'  because his performance was as beautiful as performance of  Japanese gymnast Kenzo Shirai at the 2013 World Gymnastics Championships.
The second gold medal went to Dinh Phuong Thanh with his victory of 15,500 points in parallel bars category.
Tuan Dat and Phuong Thanh also won gold medals in the SEA Games.
Dinh Phuong Thanh competes parallel bars.