Vietnam Wushu Team: SEA Games – The Only Goal
Though considered a "treasure" of Vietnam's sports at SEA Games, the taolu team expects quite a personnel adjustment at the end of this year upon attending the event in Indonesia. The entrusted ones, obviously, are those who have made their names known in the area.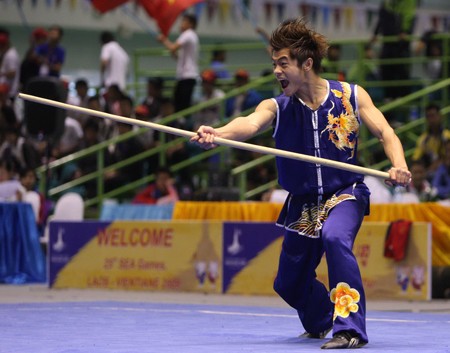 Quoc Khanh is awarded with gold medal at the 25th SEA Game for the staff performance. (Photo:Dung Phuong)
Pham Hong Ngoc, a familiar face to many people, has joined the team. Together with Duong Thuy Vy, Ngoc will probably hold an important position, which once belonged to Vu Tra My.
Besides, the team also welcomes Bui Quy Linh, Do Duc Cuong, Hoang Van Linh, Pham Duy Viet, plus the return of two "veterans" after they have fully recovered from sports injury – Vu Thuy Linh and Nguyen Mai Phuong.
One of the notable changes is the absence of Vu Tra My. Despite the coaching staff's encouragement, the wushu artist still insists on leaving the team. Vu Tra My is widely known for her talent in taolu, swordsmanship and two-weapon combat.
"After one injury, Tra My was unable to perform some complicated movements. She, then, has to move on," said Bui Truong Giang, head of the Vietnam Wushu Department.
"It's such a shame that Tra My could not participate this year. At SEA Games 2009, this charming girl only won 2 silver medals. Nevertheless, in wushu, as well as many other forms of martial arts, when a performer experiences permanent difficulty with some specific movements, it usually means the time has come," Giang said.
At the 25th SEA Game, the Vietnam wushu team made it to the number one position with seven gold medals, six silver medals and one bronze medal. However, the sanshou fighters totally outshone the taolu performers, including Thuy Linh, Tra My, Nguyen Huy Than and Tran Thi Minh Huyen, who only managed to get silver and bronze medals.
"SEA Game has always been regarded as an 'amateur' contest; still our athletes have to undergo intensive training for it. Currently, Vietnam is among the top in South-East Asia, but we must not underestimate Indonesia," Mr. Giang added.