Vietnamese players topped two of the age categories after the eighth round of the World Youth Chess Championship in Vung Tau yesterday.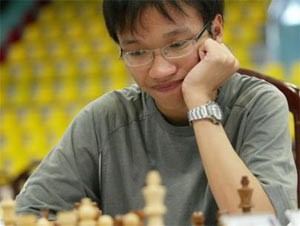 Truong Son in a match of the eighth round of World Youth Chess Championship (Photo: Tuoi Tre Newspaper)
Grandmaster Nguyen Ngoc Truong Son led in the Boys U-18 category after defeating Ioan Cristian Chirila of Romania. He is on seven points and in second place is Croatia's Ivan Saric with six points.
Another home team player, Nguyen Quang Liem, jumped to fifth place after recovering from a diffident start.
In the Boys U-8 category Tran Minh Thang easily beat his Chinese rival Liu Xiangyi to lead on seven points.
Other Vietnamese players doing well are Le Tuan Minh, who is in third place in the Boys U-12, Le Hoang Tran Chau, who is second in the girls U-16, and Vu Thi Dieu Ai, who is in third place in the girls U-10.
In the girls U-18 category, FIDE Master Pham Bich Ngoc is in 10th place, and in the girls U-14, another FM, Nguyen Thi Mai Hung, is in 7th position.
The ninth round is scheduled for today and features some intriguing match-ups: like Minh Thang (Viet Nam) versus Liao Yu Hao (China); Tuan Minh (VN) vs Shardul Gagare (India); Dieu Ai (VN) vs M. Mahalakshmi (India); Mai Hung (VN) vs Padmini Rout (India); and Truong Son vs Samuel Ter Sahakyan (Armenia).
The championship will draw to a close on the 31st.
Related articles:

Home team sluggish at world youth chess meet
Viet Nam Set to Host World Youth Chess Champs