Vietnamese athletes clinched three more silver medals in the 15th Asian Games in Qatar on Friday and Saturday. By mid-Sunday, Viet Nam stood 21st in the medal tally with one gold, six silvers and six bronzes.
The last three silvers were taken home by Hoang Ha Giang in taekwondo women's 55kg on Saturday, Pham Van Mach in bodybuilding men's 60kg event and Duong Anh Vu in the three-cushion billiards on Friday.
Ms. Giang lost to Kim Bo Hye, the Republic of Korea's champion, in the final of the 55kg category.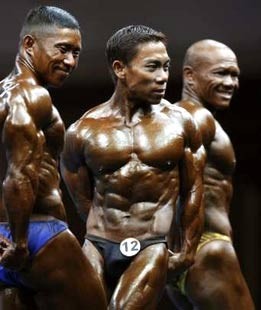 Pham Van Mach (C) competes in the Asian Games in Qatar on Friday
In the men's bodybuilding, Pham Van Mach came second behind Chinese Qian Ji Cheng. Singapore's Sihat Ibrahim ranked third.

The final of the three-cushion billiards was the competition between Viet Nam's Duong Anh Vu and Umeda Ryuji of Japan. The Japanese defeated his rival 40-29. 

Vietnamese bodybuilders Nguyen Van Lam and Cao Quoc Phu did not qualify for the finals when they both came in low on the men's 65 kg and 70 kg, respectively, ranking 8th out of 15.
Also in the last two days, Vietnamese taekwondo fighters bagged three other bronzes to make it a total of six bronzes. They were Vu Anh Tuan in men's 62kg, Bui Thu Hien women's 67kg, and Do Thi Bich Hanh in women's 51kg.
Viet Nam's only gold medal was secured last Wednesday, coming from the women's sepaktakraw team.
Related article
Viet Nam Bag 3 More Asian Games Medals