Japanese film director Takashi Miike, of 'Thirteen Assassins' fame, has invited Vietnam's goalkeeper Tan Truong to play the lead role in his next action film, to be produced by Sedic International Film.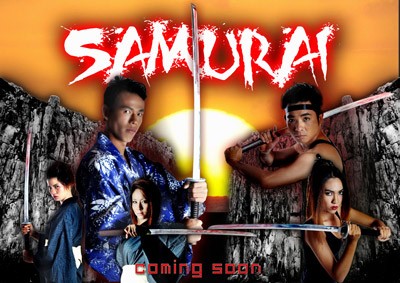 The poster of the film :Modern vs Ancient Samurai Wars"
This has come as a shock to football lovers, especially those who are fans of goalkeeper Tan Truong.
The Japanese director met Tan Truong by chance at an advertising photo-shoot by the Iyo modelling and talent search company.
Soon after seeing photographs of Tan Truong, director Takashi Miike offered Truong the lead role in his movie 'Modern vs Ancient Samurai Wars', themed on conflict of traditional values with free thinking and personal integrity among Samurais.
The film will have amazing action scenes and a romantic tempo.
Truong's beautiful athletic body and skills as a goalkeeper attracted the Japanese film director to him, who found him to be the ideal character to play the lead role in his film.
On a hunch that Tan Truong might be a bright star in future, Takashi Miike has proposed a long-term contract to Tan Truong to play other lead roles in his films, should the present film be a success. He also invited Tan Truong to visit Japan in the next two weeks to sight-see and visit the film producer's studio.
However, it is difficult for the talented goalkeeper to leave his current contract with Saigon FC. Nguyen Duc Thuy, manager of Saigon FC has spent VND9 billion on the goalkeeper, and will not easily release Tan Truong.
According to a source, the Japanese director has convinced the well-known Sedic International Film company that he would be spending nearly VND15 billion to contract the Vietnamese goalkeeper.
Takashi Miike, born August 24, 1960 is a highly prolific and controversial Japanese filmmaker. He has directed over seventy theatrical, video and television productions since his debut in 1991. During the years 2001 and 2002 alone, Miike is credited with directing fifteen productions. His films range from the violent and bizarre to the dramatic and family-friendly.