STOKE-ON-TRENT, United Kingdom, Aug 15, 2011 (AFP) - Andre Villas-Boas insists Chelsea can mount a strong challenge to regain the Premier League title even though his first match in charge ended in a frustrating 0-0 draw at Stoke.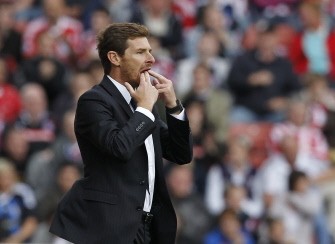 AFP- Chelsea's Andre Villas-Boas gestures during the match Stoke City vs Chelsea
Villas-Boas watched his new team fail to secure an opening day victory for the first time in 12 seasons as Stoke produced a typically obdurate display at the Britannia Stadium on Sunday.
Stoke goalkeeper Asmir Begovic denied the visitors with a string of excellent second half saves, while Chelsea were convinced they should have had a 55th minute penalty after Frank Lampard fell in the area after a challenge from Marc Wilson.
A draw was a fair result in what was a predictably bruising battle but Villas-Boas saw enough to convince him that Chelsea's ageing stars are still hungry for silverware.
The former Porto boss took heart from the way the Blues improved in the second half and he believes they are capable of wrestling the title from Sir Alex Ferguson's Manchester United.
"Last year we finished second. We are here because we want to finish first. Regarding the transfer market, we don't know what we're going to do," he said.
"Maybe we will, maybe we won't (sign more players). There's plenty of time to make those decisions. The market will get extremely frenetic in the last few weeks. That's the nature of it.
"But yes, winning the league is what we all want. I'd have enjoyed my first game better if I'd have won. I couldn't be pleased with a point but I think it's one of the most difficult grounds to play away from home.
"For our title challenge, I think one point at Stoke is not bad. It's not the greatest start to the Premier League, of course, but we're happy enough that we raised the level of the game in the second half. Now we just have to raise our level again.
"The situation is to win here. It would have been a massive win here, particularly given Arsenal and Liverpool's results.
"A point is not ideal, but not the end of the world in my opinion. It really is a difficult ground to play on. Let's try and build now on what we're doing against Norwich and West Brom."
Stoke's abrasive style of play has irritated many other Premier League managers and Villas-Boas became the latest to bemoan what he perceived as aggressive tactics.
He added: "They push the boundaries on pushing and grabbing, for sure. It's difficult. You have to keep your eye on the ball, and be aware of certain situations.
"In this case, maybe the referee is in need of some help. I may raise thisday, but it's difficult.
"The point I want to make, when you play in difficult games like this one, is the amount of pushing and grabbing in the box. It's out of this world.
"We had to deal with Stoke's set-plays and were competent enough to avoid the dangers they create from those plays, but I think there's a limit to the pushing and grabbing that makes it impossible. Referees have to pay attention to these kind of details."