World No.7 Nguyen Tien Minh of Vietnam beat World No.9 Sho Sasaki of Japan 2-0 in the final of the badminton tournament Yonex Sunrise Vietnam Open on Sunday in Ho Chi Minh City.
The Vietnamese ace, an HCM City man, secured the championship after defeating the Japanese opponent 21-13, 21-17, gaining US$3,750 in cash and 5,000 points in his world ranking.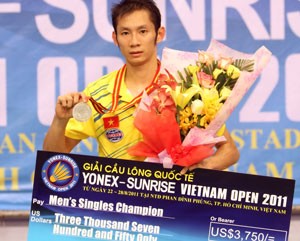 Vietnam's Nguyen Tien Minh poses for picture at Phan Dinh Phung Stadium in HCM City August 28 after winning the 2011 Vietnam Open (Photo: Saigon Giai Phong)
Phan Dinh Phung Indoor Stadium was full of local fans, who inspired Minh during the final game.
Before the match, Sasaki had lost to Minh four times but won in the most recent two times.
On Sunday, the Vietnamese finished the first set at 21-13 and then led 19-13 in the second set. However, Sasaki narrowed the gap to 17-19. Minh's Indonesian coach Asep Suharno asked him to change tactics to play slower and more correctly, and Minh finished off at 21-17.
Mr. Nguyen Phuong Nam, chairman of the Ho Chi Minh City Badminton Association, gave Minh a cash bonus of US$2,000 at the stadium.
Minh first won the Vietnam Open tournament in 2008 but did not make it after that.