Viet Nam came back from a seemingly hopeless position to beat Sierra Leone on penalties and enter the final of the Merdeka Cup football tournament in Kuala Lumpur Thursday.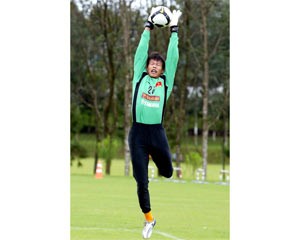 Vietnamese goalkeeper Tan Truong blocks an attack by Sierra Leone (Photo: SGGP)
At the Majlis Perbandaran Petaling Jaya Stadium, the Africans began slowly but sharply stepped up the pace after ten minutes, forcing the Vietnamese to fall back and defend their goal. 
The Sierra Leoneans succeeded in scoring in the 38th and 65th minutes.  
Soon after the second strike, Vietnamese coach Mai Duc Chung sent in midfielder Duc Thien and striker Quang Vinh to replace Danh Ngoc and Tang Tuan.  
The move worked like a charm as the newcomers quickly helped up the tempo. More was to come. In the 73rd minute Vinh received a pass from Thanh Binh and volleyed it home.  
Eight minutes later Thien, the other substitute, helped Viet Nam draw level with a long-range shot.  
The two teams then headed into the penalty shootout. Vietnamese goalkeeper Tan Truong did wonderfully to block two shots while Thanh Binh, Nhat Nam, and Thien scored to give their team a 3-1 win.  
Viet Nam takes on host Malaysia in the final of the 40th annual football tournament tomorrow, Saturday, at the Majlis Perbandaran Petaling Jaya Stadium in Kuala Lumpur.