Viet Nam finished second at the World Youth Chess Championship which drew to a close in Vung Tau today.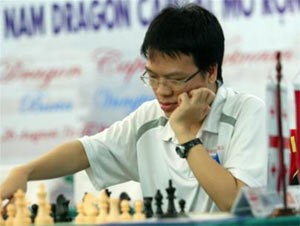 GM Le Quang Liem only stays at the sixth place on the final ranking board of the championship (Photo: Tuoi Tre Newspaper)
With four gold medals, five silvers and three bronzes, it finished behind India which bagged 12 golds.
Its golds came in the Boys Individual U-8, Boys Team U-18, Girls Team U-18, and Girls Team U-16 events.
The host's two grandmasters failed in their quest for top honors.
After drawing Tomczak Jacek of Poland in the final round of the Boys U-18 category, GM Nguyen Ngoc Truong Son had eight, the same as five others. But due to a lower win-loss score, Son lost out to Ivan Saric of Croatia and had to be content with the silver medal.
The other GM, Nguyen Quang Liem, lost to Samuel Sankland of the US to finish a lowly sixth.
The hosts also won silver medals in the Girls Team U-8, Girls Team U-10, Girls Team U-14, and Boys Team U-12 categories.
The bronzes came in the Boys Team U-8, Boys Team U-14, and Boys Team U-16 categories.
In the overall rankings, third place went to Croatia with two golds and one bronze.
The championship had attracted more than 800 players from 75 countries and territories.
Related articles:

Vietnamese Players Shine at World Youth Chess
Home team sluggish at world youth chess meet
Viet Nam Set to Host World Youth Chess Champs