Vietnam got its second gold medal at the Asian Beach Games 2008 in Bali, Indonesia, but has slipped one place to fourth in the overall medal ranking.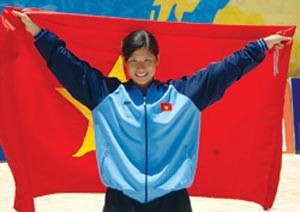 Le Thi Phi Nga proudly shows her country flag when receiving the gold medal
Le Thi Phi Nga pocketed the second gold medal for her country with a 5-0 victory over Haji Adnan Rina Jordana of Malaysia in the finals of the Pencak Silat Tanding Class A for Women last Wednesday.  
Her compatriot Vu Thi Thao grabbed two silvers, one with her teammate Nguyen Thi Binh in Beach Pencak Silat Ganda Women (Team) and another one in the Beach Pencak Silat Tunggal category for women. 
The Vietnamese male pairing of Nguyen Thanh Tung and Tran Duc Nghia lost to India's Hamdani Dani and Effendi M.Yusul to take second place in the Beach Pencak Silat Ganda Men's (Team) final. 
Vietnam got another bronze as Trinh Hai Vuong in the Men's 85kg class of the Pencak Silat martial arts category, winning the third-place bout against Moklas Mohamed Razif of Singapore. 
In the men's football qualifiers, victories over Republic of Korea 4-3 and Kuwait 8-6, could not help Viet Nam enter the semis because of a lower win:loose ratio. 
In the handball tournament, after winning their first matches, three pairings – two male and one female – failed to make it past the second round, and Viet Nam was left without any medal in this sport. 
The Vietnamese fighters suffered a similar fate in the Beach Sepak Takraw tournament when they beat South Korea in the first round, but suffered second round losses against Indonesia and China.  
The latest medal for Viet Nam was the bronze medal grabbed by swimmer Chau Ba Anh Tu in the 5km Men's Marathon early this morning.  
Viet Nam's final tally at the first Asian Beach Games was: two gold, five silver and three bronze medals.  
The first gold medal came from Nguyen Van Lam in 65kg Bodybuilding division on October 20. 
Third-placed South Korea have three gold, three silver and eight bronze medals in their basket, while Thailand increased its tally to seven gold, twelve silver and nine bronze medals.   
Hosts Indonesia are well ahead of the pack with eighteen gold, eight silver and fifteen bronze medals. 
The games will conclude tomorrow. 
Related article:

VN Has High Medal Hopes at First Asian Beach Games