Hosts Viet Nam will play Thailand in the final of the Asian Football Tournament for Schoolboys on Thursday after defeating China 4-2 on Tuesday in the central city of Da Nang.
In the other semifinal on the same day, Thailand drew 2-2 with Indonesia in the end and won 5-4 in the penalty shoot-out.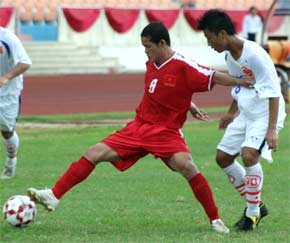 Viet Nam midfielder Viet Dung (in red) battles for the ball with a Chinese player. (Photo: SGGP)
In the Viet Nam-China match, the home side's captain Quang Tinh scored two goals, and Ngoc Anh and Phuc Hiep one each, all in the first half. Hui Jiakang and Li Long scored for China in the second half.
China will vie for the third place with Indonesia also on Thursday.
The week-long tournament drew the participation of 11 teams from Viet Nam, Thailand, Brunei, Indonesia, Singapore, China, Sri Lanka, Malaysia, the Republic of Korea, Macau and Hong Kong.