LONDON, Feb 8, 2011 (AFP) - Theo Walcott admits a heart-to-heart chat with England coach Fabio Capello about his shock World Cup omission has played a key role in his fine form this season.
Walcott, who is expected to start Wednesday's friendly against Denmark in Copenhagen, was stunned when he heard Capello had decided not to include him in England's 23-man squad for last year's World Cup.
But the Arsenal winger had to wait until he regained his place in the squad earlier this season before he could discover the reason why he was axed.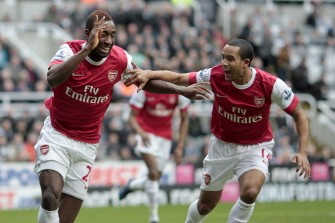 Arsenal's defender Johan Djourou (L) celebrates scoring the second goal with Theo Walcott (R) during the English Premier League football match between Newcastle United and Arsenal at St James' Park, Newcastle-Upon-Tyne on February 5, 2011. AFP
Walott is generally perceived as the shy, retiring type because he is so polite off the pitch, but the 21-year-old has a determined streak as well and he summoned up the courage to seek out the notoriously stern Capello for an explanation.
"I wanted to know why I didn't go so I asked him after training on the pitch," Walcott said.
"It was just about waiting for the right time. I kept my head down for a bit first. You don't want to play bad and then ask the manager!
"I was happy with the answer. Those are the sort of things you want to keep between yourself and the manager but it has helped me so much."
Capello has since confessed that he was wrong to leave out Walcott, so the Italian's message to his winger may have been along similar lines.
Whatever he said has clearly helped Walcott move on from the World Cup snub and he is once again displaying the electric pace and cool finishing that persuaded Sven Goran Eriksson to take him to the 2006 World Cup as a raw teenager.
He added: "I didn't dwell on it because that would kill me. I needed a mental break as well as a physical break. That has helped me this season.
"It's nice to hear the manager say he was wrong but I didn't point any fingers.
"I just want to prove people wrong and hopefully I am doing that. The psychological scar has gone. It is in the past and I just want to make sure it doesn't happen again."
While Walcott will be focused on England for a few days, Arsenal's form was still at the forefront of his thoughts before boarding the plane to Copenhagen.
The memory of the Gunners' meltdown at Newcastle, where they blew a 4-0 lead in an astonishing 4-4 draw, remains fresh.
Arsenal boss Arsene Wenger was so angry with the result that he couldn't speak to his players after the match, but Walcott says Manchester United's defeat at Wolves just hours later helped lift morale among the shell-shocked squad.
Instead of trailing United by seven points, Arsenal got off the plane after their flight back from Newcastle to discover the gap was still just four points and Walcott said: "We heard Man Utd lost when we landed at Luton and got off the plane.
"Everyone got their phones out to check the result and had a few grins. It changed the mood, it definitely changed the boss's.
"You didn't want to look the boss in the eyes before that, it was such a disappointment.
When you are 4-0 up, you want to win the league, it shouldn't happen even if you do go down to 10 men."
Arsenal's failure to deal with the second half dismissal of Abou Diaby raised questions about Arsenal's character.
Walcott, however, is adamant the likes of Cesc Fabregas and Robin van Persie provide all the leadership Arsenal need to chase down United.
"There's definitely character in the team without a doubt. Cesc always stands up, Robin as well," Walcott said.
"The result hasn't damaged me. I hope it hasn't damaged anyone else.
"It's still looking good. We are only four points behind and they have to play Chelsea twice.
"We don't want to rely on other teams but if we keep winning it will be a good end to the season.
"The league would be massive for us but anything would be great just to break that five years without a trophy."