Viet Nam will play against Oman at home this evening in their second leg of the 2008 Beijing Olympic qualifying matches.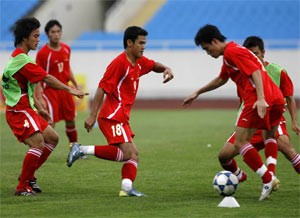 The Vietnamese team practises at Ha Noi's My Dinh Stadium ahead of today's clash with Oman
The host side will have to make do without left winger Van Bien of the Nam Dinh Club, who copped a leg injury in the V-League match against Huda Hue.
Mai Duc Chung, assistant of national coach Alfred Riedl, confirmed that Van Bien was being kept on ice for the qualifiers against Lebanon and Indonesia.
Also in the injury stakes, ankle damage forced coach Riedl to replace young striker Phuc Hiep with the Dong Thap Club midfielder Luong Van Duoc Em for today's match.
"I'm not really worried about replacing Phuc Hiep with Duoc Em. After all, the Vietnamese Olympic team played many games without top strikers Phan Thanh Binh and Le Cong Vinh," Riedl said.
The Austrian added that he would switch from the usual 4-5-1 formation to 4-2-3-1 because "Oman is stronger than us, and the 4-2-3-1 formation is the right one against a strong opponent."
Oman's coach, Al Azzani, exuded confidence when he said his team was coming here to score another win. The visitors, playing at home, beat Viet Nam 3-1 on March 28.
And the response from Herr Riedl? "I don't care what he says. The only thing on my mind right now is the team. Viet Nam might be weaker than Oman but we will be playing at home. So why be afraid of them? I reckon my boys will make a lot of trouble for the visitors in today's game."