POTCHEFSTROOM, South Africa, July 9, 2010 (AFP) - Spain holding midfielder Sergio Busquets vowed to make Holland playmaker Wesley Sneijder's life impossible when the pair meet in the World Cup final.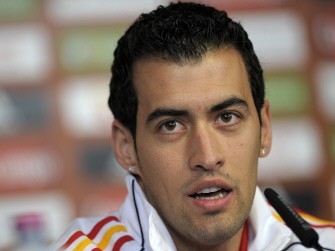 Sergio Busquets gives a press conference at the North West University Sports Village in Potchefstroom, South Africa, on July 9, 2010. AFP
Both European teams will be bidding for their first ever world title when they meet in Johannesburg on Sunday.
And while European champions Spain are the clear favourites, they are well aware of the threat posed by the Dutch playmaker, a reported 35 million-euro target for Manchester United.
And it will be Barcelona midfielder Busquets's job to try to stop the 26-year-old, just as he was asked to do in the Champions League when his team were knocked out in the semi-finals by Sneijder's Inter Milan.
"He's a great player and he's playing great. We'll try to stop him like any other player," said the 21-year-old Busquets.
"We'll try to deny him even the time to think because otherwise he can create some good chances for their forwards."
And while Busquets singled out the particular threat posed by Sneijder, back-up centre-back Carlos Marchena believes the Dutch have no weaknesses at all.
"They've got lots of strong points, they defend well, they have a great goalkeeper, their midfielders cover the whole pitch and up front they score lots of goals and are very quick," he said.
"Their counter-attacks are lethal, they're a complete team."
With the way Spain hold onto the ball and move it around with consummate ease and authority, opposing teams are often wary of pushing up against them.
One feature of the tournament is that Spain's opponents have mostly sat back quite deep to try to stop them being opened up by the clever and quick passing of players such as Andres Iniesta and Xavi.
But whatever tactics the Dutch bring to the table, Busquets believes they will have the answer.
"We've come up against everything, opponents like Switzerland who sat back, others like Chile and Paraguay who close you down," he said.
"(Holland) will play their game, both teams will play the way they know how."
Spain play very much in the Barcelona mould, a system that was largely developped by Dutchmen such as Johan Cruyff, Louis van Gaal and Frank Rijkaard.
And Busquets admits that if Spain, who have seven Barcelona players in their starting line-up, win, part of their success will be down to the Dutch.
"I can talk about Van Gaal and Cruyff, they did a great job and developped the game and philosophy at Cantera (the Barcelona training centre)," he said.
"Rijkaard launched a 4-3-3, he started that system (at Barca) and in the national team. That helped."
Busquets is one of the new names in the team compared to the one that triumphed in Austria and Switzerland two years ago, but he wasn't prepared to speculate on whether Spain were better or worse with him in the team.
"There are no games or tournaments that can be compared," he said. "We've still got the same spine but I don't want to compare.
"Football is always getting more difficult. The national team has reached a good level and is working hard.
"We played our best match against Germany (in the semi-final) and I hope the best is yet to come."
However, one thing Busquets won't be concerning himself with is who Paul the psychic octopus will be tipping for victory, despite his assertion that Spain will win and up till now never getting any of his six predictions wrong.
"Well, he's an octopus," is all Busquets would say.