Weightlifter Hoang Anh Tuan won a silver medal at the 2008 Beijing Olympic Games late August 10, bringing to Viet Nam the first medal at the world's biggest sporting event.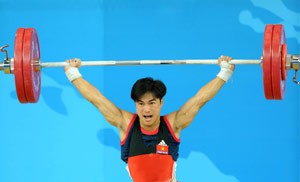 Hoang Anh Tuan competes in Beijing Sunday
He came second in the men's 56 kg category after Long Qingquan of the host country. The Vietnamese contingent at the Olympics considered his silver medal more valuable than gold – he is the first Vietnamese to win an Olympic medal since Tran Hieu Ngan bagged a silver in the women's taekwondo at the 2000 Sydney Olympics.
Tuan ranked second after lifting 290 kg in both the snatch and the clean and jerk, only 2kg less than China's Long Qingquan who lifted 292 kg in all.
Indonesia's Eko Yuli Irawan secured the bronze with 288 kg. During the 2007 Southeast Asian Games last December, the Indonesian muscle man beat Tuan to take a gold.