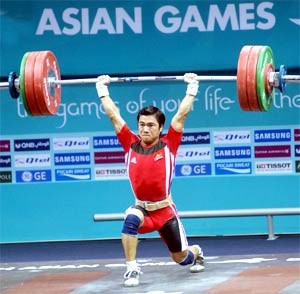 Hoang Anh Tuan in his clean and jerks competition in Doha on December 2 (Photo: VNExpress)
Vietnamese weightlifter Hoang Anh Tuan failed to win the gold medal at the 15th Asian Games in Qatar as he lost two kilograms to China's Li Zheng in the 56-kg category.
Anh Tuan's silver was the first medal of Viet Nam at the Asian Games in Doha. He lifted a total of 285 kg, two kilograms less than Li Zheng who beat him in snatch.
When he was competing, it was early Sunday in his country. In snatch, the Vietnamese lifted 123 kg in the first attempt. He increased to 125 kg in the second and 128 kg in the third.
Meanwhile, Zheng started with 125 kg in his first attempt and increased to 128 and 130 kg.
In clean and jerks, Tuan failed in his first attempt with 154 kg but succeeded in the second.
Zheng started at 152 kg and succeeded. He went up to 155 kg and also made it.
Tuan, in his third attempt, lifted 157 kg. Zheng also made it at the same weight. Both equalized in clean and jerks but the Chinese won the gold thanks to two more kg in snatch.
Tuan's silver is the first ever medal won by a Vietnamese weightlifter in Asian Games history. His 285-kg performance in Doha was much better than his Viet Nam record of 279 kg.
The bronze in the category belonged to Lee Jong Hoon of the Republic of Korea, who lifted a total of 277 kg.