NEWCASTLE, United Kingdom, Feb 6, 2011 (AFP) - Arsene Wenger admits the psychological scars caused by Arsenal's traumatic meltdown in their sensational 4-4 draw against Newcastle could damage the Gunners' title challenge.
Wenger's side were in total control after 26 minutes at St James' Park on Saturday as two goals from Robin van Persie and strikes from Theo Walcott and Johan Djourou established a four-goal lead.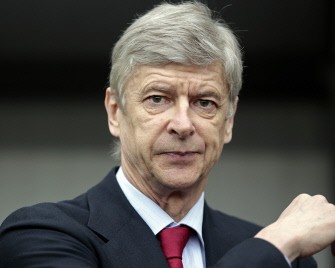 Arsene Wenger looks on before the match between Newcastle United and Arsenal on February 5, 2011. AFP
But the dismissal of Arsenal's Abou Diaby early in the second half altered the balance of power and Newcastle hit back to earn a point through two penalties from Joey Barton and goals from Leon Best and Cheik Tiote.
Manchester United's defeat at Wolves later on Saturday left Arsenal four points behind the leaders, but Wenger knows that gap could have been much closer if the Gunners had kept their composure.
"Psychologically dropping two points like this is very damaging. I cannot measure how angry I am," Wenger said.
"The damage is a bit bigger because everybody is, of course, very, very disappointed in the dressing room. But only the future will tell.
"It's very frustrating because this was a good opportunity to take three points, but we knew that the game was not won at 4-0 because Newcastle kept fighting."
However, it is highly unlikely that Newcastle would have found a route back into the match if Arsenal had not been reduced to 10 men in an incident that proved to be the main talking point of a remarkable game.
Diaby reacted to a challenge by Barton by knocking him to the ground with a blow to the head.
Wenger was angry at referee Phil Dowd's decision to show a red card to the Arsenal player, saying: "It was an unlucky sending off and Joey Barton was very lucky to stay on the pitch because of the nature of his tackle.
"Diaby was having an outstanding game, but he lost his nerve because he has suffered so many bad tackles. That tackle provoked his reaction."
Predictably, the Newcastle manager Alan Pardew had a different view and praised Barton, a player with a reputation for misbehaviour on and off the pitch, for not reacting to Diaby's push on him.
Pardew said: "This is football in the Premier League. I have no problem with the challenge and Mr Wenger needs to see it again.
"Joey didn't react, he didn't get up - and the Joey of old would have done that.
"In that little moment, he showed why some people are thinking that England call might be coming his way. He has matured as a person."
Jack Wilshere, the Arsenal midfield player, added his opinion in a tweet that could get him in trouble with the FA.
He said: "Inconsistent refereeing needs to stop. It's killing the game. If Diaby is sent off, what's the difference between that and Kevin Nolan's challenge on our keeper!?? Joke."
One thing is certain - the incident certainly transformed a match that was heading towards a predictable seventh win in succession for Arsenal. For more than half the match, it was merely a question of how many they would score.
An easy win for Arsenal would have enhanced their title prospects and raised relegation fears at Newcastle in the wake of their decision to sell Andy Carroll to Liverpool.
Instead, Pardew is in no doubt that Newcastle can build on a performance that may shape the destiny of both teams this season.
He said: "It was an incredible day. Anyone watching it could pick lots of things that were wrong, but it was really great.
"It was not about tactics, it was about what's inside you and the character you've got. It got us back in the game and hopefully sees us through to the end of the season.
"I cannot praise the fans enough. Even at 4-0 down, they didn't give us a monster bad time. There were some boos, but what would you expect? I thought the house might come down, but we all turned it round."