LONDON, Sept 16, 2010 (AFP) - Arsenal manager Arsene Wenger is convinced his side's six-goal demolition of Braga in their opening Champions League group game is proof his players have the potential to be winners.
And none more so than captain Cesc Fabregas, who was denied the summer move to Barcelona he had requested.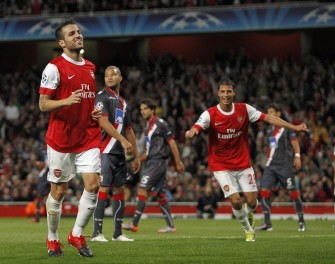 Arsenal's Fabregas (L) celebrates scoring his second goal against Sporting Braga on Sep 15, 2010. AFP
The Spain midfielder was inspirational at the Emirates Stadium on Wednesday as Braga, last season's runners-up in the Portuguese league, suffered the heaviest defeat by a group stage debutant.
Fabregas scored two in the 6-0 Group H victory, including one from the penalty spot, and was involved in setting up the others as Andrey Arshavin, Marouane Chamakh and substitute Carlos Vela also found the net.
Mexico striker Vela scored the final two after replacing Chamakh just after the hour mark.
The Arsenal supporters certainly hold no grudges towards Fabregas, who had been keen to move to Barcelona, the club he had left as a teenager to join Arsenal, and Wenger insisted he was convinced the player's heart still belonged to the Gunners.
"I never said it wasn't," said the Arsenal coach.
"He has taken on another dimension. People forget he is 23, where other people start. He is a fantastic influence and it's important that he leads this team to winning.
"For the young players, playing alongside him, it's a fantastic opportunity. If you're 18, like Jack Wilshere, and you see Fabregas, it's a big opportunity to learn a lot.
"I like the way he gave the ball to Vela to score instead of trying to score himself, because that reflects the attitude of a leader. He's not selfish.
"And it reflects the way we play. I think he loves this club. People doubted that, but I never did.
"He arrived here at the age of 16 and enjoys the way we play. What more do you want to be happy?"
Arsenal have not won a trophy in the last five years and though they always seem to negotiate the group stage, have only once made it all the way to the Champions League final, where they were beaten by Barcelona in 2006.
The current crop of players are young, especially compared to Premier League rivals Manchester United and Chelsea, but Wenger insisted they were mature beyond their years.
"What people forget is that I always believed in this team," he said.
"They are now 22 or 23 and continue to grow. That's normal. What they did at 20 was, for me, exceptional."
Braga were a beaten side the moment goalkeeper Felipe upended Chamakh to concede a penalty in the eighth minute and visiting coach Domingos Paciencia admitted it had been a night to forget.
"It wasn't the result we were expecting," he said.
"When you play a great team, that's the risk you take but we made so many mistakes it's very hard to take. We played badly.
"Above all, I would like to say to them we're not as bad as we were. But Braga is a team that is taking its first steps in the competition.
"We need to keep moving and take it as a an experience and not repeat it."