I don't like people asking me if there is any pressure in Spring Cup. There is no problem with me. There is no dreaful pressure from anyone except myself and I don't have a habit of creating pressure for myself," coach Rield calmly told reporter right on the first day of the national football team assembling.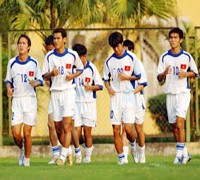 Vietnamese players are training
He seems proud to say, "Viet Nam's team this time composes of the best current players and it is a very young team with the average age of players being about 23.5." Reporters talked to the national team coach about the re-emergence of Vietnamese football after a scandalous SEA Games.
Is there a fact that after the first round of V-League, some players are injured or not fully recovered from previous injuries? Tai Em is an example. Last week, coach Calisto complained that those responsible in Viet Nam's Football Federation and the national team were not really concerned about the players' conditions as they even summoned the injured players to the team. Calisto even thought that the call for Tai Em carries a risk, not only for himself.
I will send back to their club any player who is not fit. This is not a big problem. However, I need to talk to the player before making decision. As my home internet connection was broken, I couldn't get as much information as usual. I don't know if Tai Em played for Dong Tam Long An in the last round.

Are you confident that you can select the strongest team for an international tournament in such record limited time?
We have a week; in fact only six days. Therefore, we have to try our best to bond the players as much as possible. I don't know how to do this as I am not fully aware of the their capability. As you may remember, after last year's Honda Cup, we competed with the U.23 team only. I don't know much about those like Huy Hoang, Duy Hoang, Manh Dung, Hong Son, Bao Khanh, Hong Minh for almost a year. Surely I watched them play in the National Championship but V-League clubs and the national team are completely different. I will try to build the best possible team.
Are you willing to spare a chace for young players, like Dang Van Thanh?
Maybe. As Van Thanh did not play last week due to his injury, I am not sure about his condition now. I may have to wait after the first practice session. Thanh, like any other player, will have a chance if he is capable. It is not important whether he is a new or an old player.
After the bad scandal of the U 23 team in SEA Games 23, the best way to gain back supporters' trust is the new national team in the coming tournament. Do you think performance is more important than the results?
Of course the performance is more important. We compete in the championship with a new team and new players. As we do not know much about their capability, their performance in the games is important. We will try in each match. I have no prediction or expectation now. It is possible that we do not get the desired results, but please don't be disappointed. What else can we do? The most important thing is that we have tried our best. However, as to date I have had no specific information about the opponents in the Spring Cup, I couldn't say anything.
You should have been provided with the list of the three U.23 teams of Iran, Australia and Uzbekistan by now, shouldn't you?
Absolutely. But it is not known how strong they are. Only a close watch could bring an exact comment. All information is for reference only.
Truong Giang is likely to bid farewell to the team
Except for Manh Dung and Hong Minh, who are allowed a late answer to the summon as they have to play for Da Nang Club in Asian C1, all the other 20 players arrived at National Sport Training Center 1 at 16:00 on April 10. After a nearly 1-hour meeting with new assistants, coach Rield started the training session immediately. Seventeen players were divided into two groups. Group 1, including footballers who played full time in round 13 of V-league and the national championship, only warmed up and did light exercises. Group 2 with players who did not play the whole game practiced short passing. They practiced for about 60 minutes with Minh Duc and Duy Hoang being exempted because of sickness and Truong Giang for injury after the last match with Hoang Anh Gia Lai in round 13 of V-League. According to team doctor Nguyen Trong Hien, Truong Giang will be under close watch for the next few days and the final conclusion on his chance of recovery will be made in the middle of next week. Other injured players, like Tai Em and Van Thanh, are still practicing with the team.