The World Chess Federation (FIDE) will help develop chess in Ho Chi Minh City and the southern province of Binh Duong as part of its global chess promotion and development plan, said the FIDE President.
FIDE President Kirsan Ilyumzhinov made the commitment when he was received by Vietnamese President Nguyen Minh Triet in HCM City on June 18.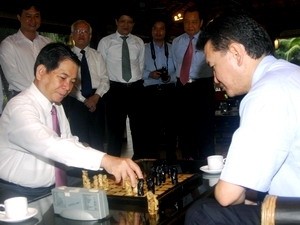 Vietnamese President Nguyen Minh Triet (L) plays chess with FIDE President Kirsan Ilyumzhinov in Ho Chi Minh City on June 18, 2011 (Photo: Vietnam News Agency)
Under the commitment, FIDE will provide the two localities with advanced teaching methods, competition equipment, including chessboards and timers, and software programmes on chess.
The FIDE official expressed his wish that Vietnam would soon house a branch of the World Chess Academy.
President Triet welcomed the FIDE President's initiative and his personal assistance in promoting chess, a game of logic, in Vietnam, particularly HCM City and Binh Duong.
He described the assistance as an advantage for the development of chess movements in the country.
The President said chess is suitable for the Vietnamese people, as evidenced by a number of grandmasters who have shone at international competitions, like Le Quang Liem with an Elo score of 2,700, and Nguyen Ngoc Truong Son with an Elo score of 2,635.
On the occasion, President Triet recalled sentiments towards Vietnam by Kirsan Ilyumzhinov when he was the head of the Republic of Kalmykia (Russia).
The President also said he profoundly treasured the assistance given to Vietnam in recent years by FIDE President Kirsan Ilyumzhinov.