NEW YORK, Sept 8, 2010 (AFP) - Top seed Caroline Wozniacki reached the US Open semi-finals on Wednesday by defeating Dominika Cibulkova 6-2, 7-5 in a wind-whipped match.
The Dane will play Vera Zvonareva of Russia, the seventh seed, for a place in the final. The two have played four times with two wins each.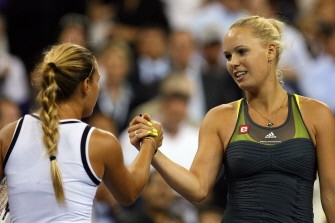 Wozniacki shakes hands with Cibulkova after their women's single quarterfinal match on September 8, 2010. AFP
"It felt like playing in a hurricane out there, but it was the same for both players," Wozniacki said of the conditions.
"Just got as many balls back in court as possible and ran."
The swirling winds that had swept the Arthur Ashe Stadium court throughout the day appeared to intensify as the last of the quarter-finals got underway, playing havoc with serves and groundstrokes.
Cibulkova dropped her opening serve and then so did Wozniacki, hitting three double faults in one game, compared to a total of five in her four first outings.
With loose litter and napkins flying about the court, several exchanges had to be interrupted.
Wozniacki, though, held onto her second service game and then with a third straight break against Cibulkova, she jumped out into a 5-1 lead.
Last year's beaten finalist wrapped up the first set in 36 minutes two games later.
The 20-year-old Wozniacki came into New York having won three out of the past four WTA tournaments and after coasting through four rounds here she had an 18-1 win-loss record since Wimbledon.
Cibulkova, at five feet three inches (1.59metres) one of the smallest players in the tournament, was into the quarter-finals of a Grand Slam tournament for just the second time.
The 21-year-old from Bratislava dug deep at the start of the second set, but was unable again to hold onto her serve, shanking a couple of deliveries due to the wind.
But she got back on level terms in the following game as Wozniacki in turn struggled to find her range.
The Dane started to look rattled for the first time in the tournament as the her normally impeccable timing was skewed by the testing conditions.
But she held firm aainst an increasingly aggressive Cibulkova and grabbed the break of serve she needed in the 11th game to go 6-5 up.
Cibulkova had a point to break back, but she netted a forehand after one of the longest rallies in the match and Wozniacki finished her off.
Both semi-finals will be played Friday with defending champion and second seed Kim Clijsters taking on third seed Venus Williams of the united State sin the other match.