Vietnam Railways is offering a 10 percent discount on rail fares on its north-south route from September 6 to December 31 to individual passengers.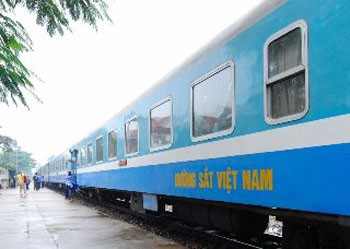 Thong Nhat train fares drop by 10 percent
Passengers booking tickets 60 days before departure on the Thong Nhat trains (TN 1, 2) can avail of a 10 percent discount on the fare. This promotional program is for individuals only and not for organizations. There will be a 30 percent charge on refund of tickets.
Those buying tickets on Thong Nhat trains SE5, 6, 7 and 8 will also receive a 10 percent discount. The discount is applicable for all hard seats and beds as well as for soft seats and beds without air conditioning.
Nguyen Dat Tuong, deputy director of Vietnam Railways, said yesterday that the Railways department will start selling Tet tickets from the beginning of October for the north-south route on the Thong Nhat trains.
Passengers can purchase tickets at railway stations, from agencies and from schools. They can also ask for home delivery of tickets, book via internet or via SMS messaging.