The well-known "house with 100 roofs", designed by architect Lu Truc Phuong and formerly located in Da Lat City, will be rebuilt for use as a tourist attraction and guesthouse in the Phu Hoi Ward of Duc Trong District, Lam Dong Province.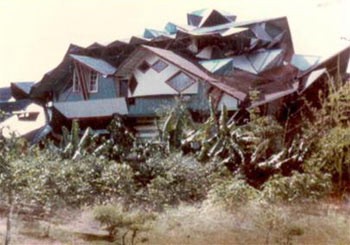 The old 100-roof house in Da Lat City.
The new house, with seven floors and 100 bed rooms will be located on a 3,000 -quare-meter foundation symbolizing an ancient coin. Besides having 100 roofs, it will also feature a giant egg, which will occupy the three top floors, and a water tower in the middle.
Reconstruction will be carried out by the Quoc An Joint-Stock Company in consultation with Lu Truc Phuong and are slated to begin early next year.
The house, previously located on Dinh Tien Hoang Street in Da Lat City, attracted many visitors, among them many local and foreign architects.
The authorities condemned that it was an insecure house and torn it down in October 1993. Then the goverment has steered the Lam Dong Province to look for a more appropriate location for its reconstruction.