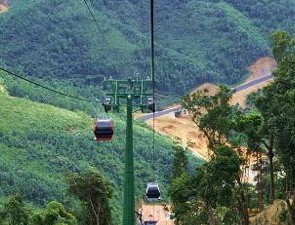 The Ba Na cable car system starts service on Mar. 25, 2009 (Photo: VNA)
The Ba Na cable car system in the central coastal city of Da Nang has set two Guinness World Records – the longest single-string cable car system and the biggest height gap between its departure and arrival stations.
The system, which connects the foot of Mount Ba Na with Vong Nguyet Hill, about 1,300 meters above the sea level, has a length of 5.042 kilometers and extends 1.29 km up the mountainside.
On Mar. 26, Guinness World Records representative Lucia Sinigagliesi handed over the Guinness certificate to the Ba Na Cable Car Service Company.
Sinigagliesi said Vietnam has so far received 11 Guinness world records. However, the Ba Na cable car is the country's first record in the fields of science and technology.
One day earlier, State President Nguyen Minh Triet cut the ribbon to inaugurate the cable car system.
The first section has been built over the last 12 months at a cost of US$17.2 million. The remaining section, from Vong Nguyet Hill to the highest peak, is to start operation by the end of April with a further investment of $5.7 million. The Ba Na Cable Car Service Company plans to launch the second section on April 30.
The first section can transport up to 1,500 people per hour, with a 15 minute ride-time. The second will be able to service 1,000 people per hour.
The cable car system is built up to European standards with Austrian technology and equipment imported from Germany, Switzerland, and Sweden.
Tourists to Mount Ba Na are served drinks inside each cab as well as at the two stations. The cable car system is expected to boost the economy of Da Nang, which has lots of potential for tourism.