Next year is expected to become Viet Nam's year of cruise tourism. The nation is to focus on promoting sea tourism by, among other things, allowing visa exemptions to cruise lines, said Viet Nam National Administration of Tourism (VNAT) Travel Department Head Vu The Binh at an international conference on cruise tourism in Quang Ninh province's Ha Long city yesterday.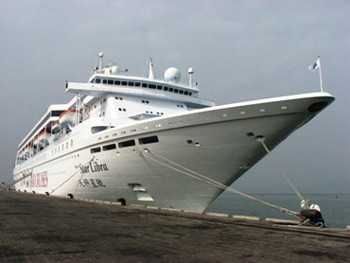 The SuperStar Libra bringing 1,700 visitors arrives in Ha Long City on December 3. (Photo:Vnex)
Also at the conference, Saigontourist Corporation Director Vo Anh Tai said visitors on cruise ships are generally wealthier than other tourists and can spend lavishly on souvenirs. So the Vietnamese tourism industry should provide tourism products and services to meet their demands.
Saigontourist, regarded as Viet Nam's leading travel firm in developing cruise tourism, welcomed more than 40,000 cruise tourists in the first 11 months of this year, 159 percent more than last year.
But the economic potential of this source of tourists has not kept up with the number of seagoing visitors arriving. We haven't got any specialized wharves for big cruise ships, Mr. Tai said.
It is estimated that the number of international cruise visitors to Viet Nam will exceed one million in 2010, said Mr. Binh.
The country has more than 3000 kilometers of coastline which has great potential for the sea-tourism. Cruise ship operators are increasingly choosing Viet Nam as a safe and trendy destination sporting various tourism highlights, like Ha Long Bay.
Saigontourist is to cooperate with Star Cruises Limited, the leading cruise line in Asia-Pacific, to provide weekly cruises to Ha Long Bay in December. Star Cruises will bring 900-1,200 passengers a week onboard the SuperStar Virgo and SuperStar Libra from Hong Kong.
Viet Nam's famous tourist spots will be advertised free on Fashion TV (FTV) beginning next year, said Fashion TV France Deputy Chairman Uzi Garty. The two weeks of 15-second commercials will be aired six times a day.
The Mega-F Diamond, FTV's five-star cruise ship is to regularly dock in Ho Chi Minh City, Da Nang and Ha Long Bay before traveling to Thailand, Singapore and Hong Kong, Mr. Garty said.
The conference, the first of its kind, was jointly held by the Ministry of Culture, Information and Tourism and Saigontourist Holding Company with the attendance of government departments, local and foreign shipping companies, and travel firms. It is to conclude today.