The Amara Saigon Hotel has just introduced its new management, responsible for carrying out a 2007 renovation plan to make Amara one of the best four-star hotels in Ho Chi Minh City.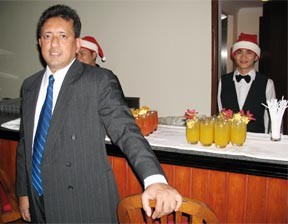 Amara general manager L. Perera (Photo: Tuong Thuy)
"Our vision is to become the best four-star hotel with five-star services and standards," said Lakshman Perera, the new general manager of the 300-room Amara Saigon.

The Singapore-based Amara Hotels & Resorts company has appointed him to the position. He has 20 years of experience with Shangri-la hotels in Sydney, Manila and Shanghai.
Peter Wong from Singapore has been appointed director of sales and marketing. He used to work with Millennium Copothorne hotels in his country, and prior to that with Sheraton Singapore.
See Soo Chiaw is the new finance controller. He had earlier worked in the US, Malaysia and Singapore.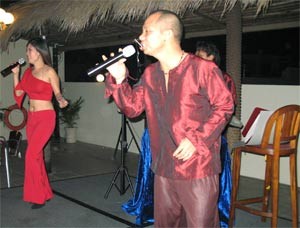 A Filippino band performs by the Amara swimming pool. (Photo: Tuong Thuy)
Regarding the renovation plan, GM Perera said it would be completed in early or mid 2007. The plan includes refurbishing the 8th and 9th floors with new decorations, lighting, carpets and furniture.
The hotel is re-designing and refurbishing its lounge, swimming pool area and restaurants. A steakhouse will open by mid January, said Perera. Also in the plan, the gym will be relocated to the 9th floor, higher than before for better views, and outfitted with more modern equipment.
Amara will also give a facelift to its meeting rooms on floors 4, 5, 6 and 7 by renewing carpets, wall covering, lighting and furniture.
Mr. Perera said his hotel was building a new parking area at the back of the hotel to accommodate motorcycles when more than one wedding party is held at the hotel.
"What we plan to do in 2007 include welcoming the Lunar New Year with gifts for old and poor neighbors, presenting gifts and meals to orphans in District 3, conducting a blood donation campaign, and organizing charity events with charity organizations," he said.