Following on from yesterday's private talks, tourism ministers from the 21 member economies of the Asia-Pacific Economic Cooperation (APEC) forum began the fourth formal APEC Tourism Ministerial Meeting in the Quang Nam Province town of Hoi An today.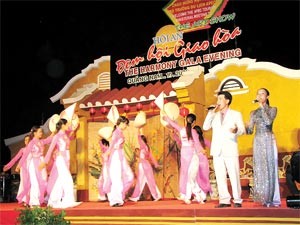 "Harmony Gala Evening" in Hoi An to welcome the APEC delegates
Yesterday they discussed joint tourism promotion strategies and the Viet Nam National Administration of Tourism (VNAT) had bilateral working sessions with various APEC members.
VNAT officials led by Chairwoman Vo Thi Thang had a meeting with the UN World Tourism Organization (UNWTO) where Deputy Secretary General Taleb Rifai of the UNWTO said he realized the potential of Viet Nam's tourism industry and described Viet Nam as a prospective destination in the Asia-Pacific region.
Mr. Rifai added that his organization anticipated further cooperation with Viet Nam as part of its US$8-million Sustainable Tourism Eliminating Poverty (STEP) program in many countries.
The UNWTO is sending planning experts to Viet Nam to survey Phu Quoc Island and the Can Gio Biosphere Reserve prior to drawing up a tourism planning project for both places.
The two sides agreed to complete a detailed cooperation plan by year's end so that the project could start next year.
Another meeting was between VNAT Vice Chairman Hoang Tuan Anh and Japanese Deputy Minister of Land, Infrastructure and Transportation Ken Haruta.
So far, Japan has invested US$163 million in 11 hotel and other tourism-related projects in Viet Nam. In the first eight months of this year 234,973 Japanese people visited Viet Nam.
Mr. Anh also met with Deputy Secretary General Gu Zhaoxi of the Chinese National Tourism Authority to discuss ways of boosting tourism cooperation.
China said it would consider Viet Nam's suggestion of opening a sea cruise from China's Guang Xi Province to Viet Nam's Da Nang.
Later on Mr. Anh and Filipino Deputy Minister of Tourism Eduardo Jarque signed a tourism cooperation agreement between their two countries.