Tour operators and travel agents from Australia have provided positive feedback to what Viet Nam has to offer after they visited the country's south to learn more about the region in the past four days.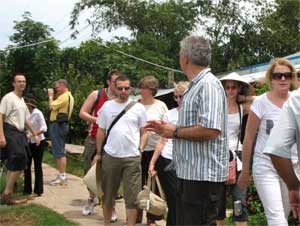 Australian tour operators and travel agents tour Ho Chi Minh City's countryside (Photo: Tuong Thuy)
The 11-strong group, who left Ho Chi Minh City on Tuesday, proposed the Vietnamese tour operator TransViet to arrange a Viet Nam trip for about 150 foreign tourists in the middle of next year, TransViet marketing manager Vo Thanh Hai said.

He said his company, which organized the tour for the Aussie firms together with Malaysia Airlines, agreed. 
Hai added the group really wants to cooperate with Vietnamese companies to co-organize holidays in the nation for Australians.
In Ho Chi Minh City, the group checked out five-star hotels Park Hyatt, Sheraton, Caravelle and New World to prepare for their plans. They said Australian visitors love shopping at Ben Thanh Market, also in the city's heart like these hotels.
During the trip, the visitors took in the sights of the southern hub and the Mekong Delta. They went to Cu Chi on the city's outskirts to see the famous tunnels used by guerilla fighters in the war. After Cu Chi, they returned to tour the Reunification Palace, the War Remnants Museum, Ben Thanh Market and other places of interest.
Down to the Mekong Delta, they went sightseeing to orchards of various fruit, shrimp and fish farms and floating markets on the rivers. 
 
TransViet has arranged accommodation and tours for three familiarization trips, including this one, so far this year.
Viet Nam clocked up 277,000 international arrivals in September, taking the total until that month to more than 2.68 million, up 4.6 percent year-on-year, according to the Viet Nam National Administration of Tourism. The number of Australians is about 14,000.