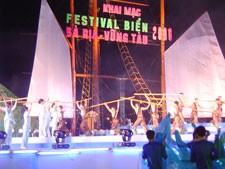 The Opening Ceremony of Sea Festival 2006. (Photo: Yen Chuong)
The opening ceremony themed "Love For The Sea – Love For The People" of the first Ba Ria – Vung Tau Sea Festival 2006 with fireworks show and special arts performance took place in the evening of April 11, 2006.
Many other activities are also organized during the 5-day Festival such as: fair and exhibition of social, economic and cultural achievements in Ba Ria – Vung Tau, the conference themed "Ba Ria – Vung Tau and Strategy of Marine Economic Development" and "Future for MICE Tourism Development at sea location", competition of traditional Vietnamese sports, art show on water, art parachuting, Ba Ria-Vung Tau Miss Sea 2006, street art exhibition, etc.
One of the main activities in the first day of the Festival is Stone Engraving Camp, namely "Miracle Sea Presents", with the participation of 40 craftsmen who come from Ba Ria-Vung Tau and other locations.
"To promote its potential and attract investment in tourism and economy , the provincial authorities and local enterprises have jointly organized the Sea Festival to introduce to tourists and investors a new image of an active and friendly Ba Ria – Vung Tau. Therefore "Impression and Friendliness" is the theme for the Festival". Chairman of the People's Committee of Ba Ria - Vung Tau, Head of Festival's Organization Board, Mr. Tran Minh Sanh, said.
The first impression that the Sea Festival brought to people was the monumental arts performance directed by People's Artist Chu Thuy Quynh with the attendance of hundreds of local artists of Ba Ria – Vung Tau Province's Culture and Informantion Department, and students of Ha Noi and Ho Chi Minh City dancing schools.
The Opening Ceremony was attended by Mr. Tran Minh Sanh and Mr. Pham Quang Khai, Vice Chairman of the People's Committee of Ba Ria-Vung Tau, foreign consulates, authorities from other provinces, domestic and foreign investors.
Related Article:

Ba Ria – Vung Tau Sea Festival 2006