Saigon-Binh Chau is an ecotourism park inside a primeval forest in Ba Ria-Vung Tau Province's Xuyen Moc District. It is about 160 kilometers northeast of Ho Chi Minh City and occupies 33 of the 11.000 hectares of forest there, known as Binh Chau-Phuoc Buu Natural Reserve.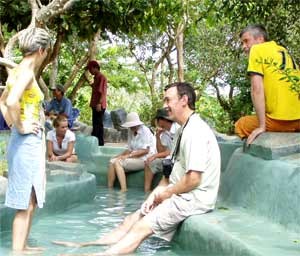 Foreign visitors soak their feet into the hot, mineral water (Photo: Tuong Thuy)
In the mangrove forest, there are a dozen of hot mineral springs (40°C to 80°C) flowing for visitors to soak their feet. Mud bath is available at Saigon-Binh Chau. Scientists say that spa bath, hot mud bath and fresh air of the forest are good for your health, especially for those with rheumatism. Thousands of people go to Saigon-Binh Chau every day to take this physical therapy – soaking feet and taking fresh air is free but one hour of hot mud bath will cost you VND80,000 (US$5). After this mud bath, you can soak your body in warm mineral water, just to feel some refreshment with your skin.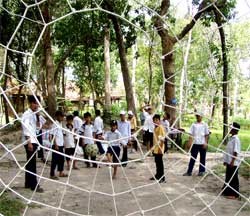 Boys play a game, kicking the ball via the hole on the artificial spider web to get bonus at the tourism park (Photo: Tuong Thuy)
The entertainment services But there are a lot more there to do to meet your heart's content. They include river fishing, crocodile angling for fun, outdoor excursions by bull-drawn carriages, lighting camp fires under the shade of the forest, karaoke, playing tennis, badminton, volleyball, and beach volleyball. Don't be unnerved by the sound of crocodile angling. It indeed is thrilling thanks to the forest setting, but your safety is guaranteed, as visitors stay inside a floating cage protecting them from crocodile attacks, if any. For the bull-cart excursion, the fare for six sightseers or less is VND90,000 (about US$5.5). During the excursion, you will get a chance to see many local native trees with name tags on them to indicate their Vietnamese and scientific names.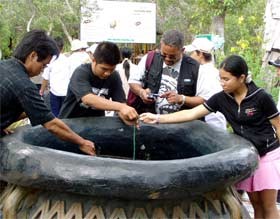 Tourists boil chicken eggs at a natural well (Photo: Tuong Thuy)
At a temperature of over 80°C, some springs can boil chicken eggs. This section has five or six natural egg boiling wells. Only with 10 minutes for medium boiling or 15 minutes for well-done boiling, you will get eggs available ready to be served. 

At the Forest Flower Restaurant, the Forest Fragrance Bar, the Gastronomic Unique Bar, also in the shadow of the mangrove forest, you will be served delicious dishes prepared with ingredients from the forest and the sea, not very far from the ecotourism park. A liter of honey from the forest is sold at VND120,000 (US$8), and I can say it is real honey, from my own experience.  

Saigon-Binh Chau Tourism Co. has built the tourist attraction for five or six years. In 2003, the World Tourism Organization recognized the destination as one of the 65 areas achieving sustainable ecotourism development in 47 countries in the world.  
In Ho Chi Minh City, you can book a tour to the destination via the company's branch at 60 Dao Duy Anh Street, Ward 9, Phu Nhuan District, tel: (08) 997 0677, email: sg-binhchautours@hcm.vnn.vn

Saigon-Binh Chau Ecotourism Park
Add: National Highway 55, Binh Chau, Xuyen Moc District, Ba Ria-Vung Tau Province
Tel: (84.64) 871 131
Fax: (84.64) 871 130