The central provinces of Binh Dinh, Gia Lai, Kon Tum and Phu Yen signed on Sunday a memorandum of understanding on a plan for an air route for Binh Dinh and Ha Noi.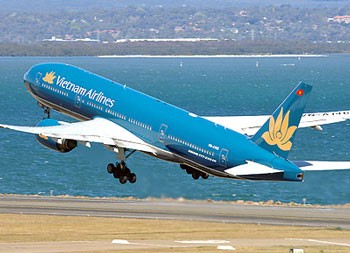 A Vietnam Airlines plane
Representatives of the four provinces agreed to request national carrier Vietnam Airlines to upgrade Phu Cat Airport in Binh Dinh so that it can handle A320 and A321 aircraft three times a week, starting before the Lunar New Year (Tet) holidays, which come in late January.

Mr. Tran Bac Ha, chairman of the Bank for Investment and Development of Vietnam, said his bank would use VND200 million (US$11,700) to help the four bordering provinces to promote the new service.

In related news, the budget carrier Jetstar Pacific on Monday allowed its passengers to change names on JetSaver and JetSaver Light tickets within 24 hours before the flight, and passengers have to pay a fee. Meanwhile, a change of name on JetFlex ticket is free.