Tour operators, travel agents and a travel writer from the UK are spending Wednesday and Thursday taking in the sights of Ho Chi Minh City and the Mekong Delta as part of a trip to learn more about Viet Nam and find out what it has to offer.

On Wednesday they went to Cu Chi on the city's outskirts to see the famous tunnels used by guerilla fighters in the war.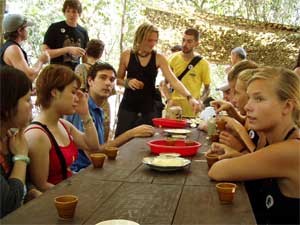 Foreigners at the Cu Chi tunnels (Photo: Tuong Thuy)
After Cu Chi, the 11-strong group returned to the city and toured the Reunification Palace, the War Remnants Museum and other places of interest and met with government officials to discuss ways of tempting tourists from the UK.
In the evening, they were scheduled to watch a music and fashion show at Sy Hoang Gallery in District 1 where they could experience Viet Nam's traditional musical instruments and see new versions of the charming (and ubiquitous) outfit known as the ao dai.
The British visitors arrived in Viet Nam on September 29 and spent the first part of their trip sightseeing in the capital and the northern provinces.
Their week-long stay is being organized by the Vietnam National Administration of Tourism, the Vietnamese Embassy in Britain, Korean Air, the Korean tourism authority and the Vietnamese tour operator TransViet.
TransViet's marketing manager, Vo Thanh Hai, said some of the group members had been here in June on a similar trip arranged by his company and Vietnam Airlines.
"Now they have returned for more discussions with potential Vietnamese partners. Our company has received positive feedback from the ones who came in June," Mr. Hai said.
"TransViet wants to publicize Viet Nam in Britain, which holds great potential for us. These FAM (familiarization) trips are part of that effort." 

Ho Chi Minh City clocked up 178,000 international arrivals in August, taking the total for the year thus far to almost 1.5 million, up 9% year-on-year, according to the Department of Tourism. The top ten source markets were, in order, the USA, Japan, Taiwan, the Republic of Korea, Australia, China, France, Malaysia, Singapore and Canada.

The department is forecasting a final figure for the year of 2.3 million international arrivals, to which can be added a likely 3.5 million domestic travelers, up 15% on 2005 in both cases.