The taller of the famous Hon Phu Tu (father and son) rocks in Kien Giang province is to be restored after suddenly collapsing into the sea at dawn on Wednesday.
The Heritage Department of the Culture and Information Ministry has written to the provincial authority approving the restoration of Hon Phu (father rock).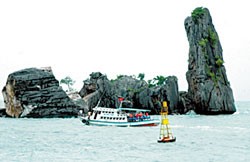 The Daddy's collapse (L)
Because it juts out into the sea off Vietnam's southwestern coast, Hon Phu Tu is at the mercy of strong waves, fierce winds and driving rain. Daddy's collapse on August 9 is viewed as a serious blow to Kien Giang and the entire country.

Besides working out the best way to fix Hon Phu, the Heritage Department suggests the province check the smaller pinnacle to see if it too is at risk of disintegrating and take whatever action necessary.

Hon Phu Tu has drawn admiring glances for over one thousand years and is a major tourist attraction these days. The Ministry of Culture and Information awarded it national heritage status in 1989.