Coffee shops in Da Lat are a unique cultural feature of this city. They are places where those who have had many memories of Da Lat come to for a cup of coffee, recalling them in the temperate cold weather of the romantic city. Particularly, with the newly-launched cafe cable cars, visitors can enjoy a cup of coffee while watching the magnificent view of the city at night from above - a memorable feeling for anyone who has experienced it.
Visitors to Da Lat usually prefer living near the city's downtown so most of them usually enjoy having a cup of coffee in the morning or evening at cafes around the Hoa Binh Square.
There are many coffee make-shift shops for laborers near Da Lat Market on Nguyen Chi Thanh, Phan Boi Chau, Truong Cong Dinh, Nguyen Van Troi streets and Tung Nghia bus station.
Da Lat lovers or regular visitors to Da Lat perhaps may never forget Tung Cafe located near Hoa Binh Square, which provides only classical and instrumental music for coffee and music connoisseurs. The quality of coffee at Tung was acclaimed long time ago.
If travelers need an ideal space or want to try something special at night, they can go to the telpher cafes where coffee is served right in the cable cars. The opening hour is from 6':30 pm to 9 pm every Thursday to Sunday and each ticket costs VND 30,000 per person for a cup of coffee or tea and 40 minute trip on a cable car. This is really an interesting experience. Under the starry sky, travelers can fly over the hills, glide though the pine forest and view the whole splendid city down below.
Valentine cafe on Ho Tung Mau Street (next to Palace Hotel) is another coffee shop where there is a lot of selected music for many types of customers. It also has a good location that enables customers to watch the Antenna Tower of Da Lat's post office at night and a corner of the city at day time. Bich Dao coffee shop also has selected music and a quiet, beautiful location.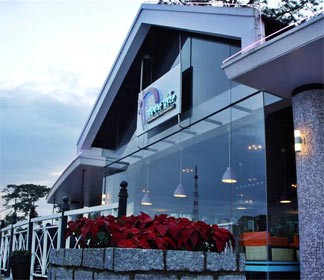 Thanh Thuy restaurant
Near Xuan Huong Lake, there are Thuy Ta and Thanh Thuy restaurants where customers are served with "shivering coffee" (not cappuccino), which means sitting and drinking coffee outside the restaurants in the cold weather outdoors from evening until midnight. Traditional music or piano is performed by the local artists at these restaurants.
As for those who love Trung Nguyen coffee, there are several coffee shops of this brand name located on The 3rd of February Street or near the University of Da Lat.
At present, a great number of beautiful and courteous cafes, which also serve light meals, are operating in Da Lat, especially in those streets such as Le Hong Phong, Hoang Van Thu, Tran Phu, Chu Van An and Hoa Binh Square.