The Mekong Delta city of Can Tho will spend VND30 billion on its National Tourism Year 2008, which has the theme 'The Mekong Delta's Waterways and Countryside'.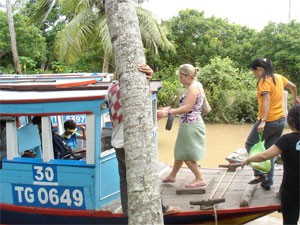 Can Tho expects to attract more tourists in the National Tourism Year 2008 (Photo: Thuy Hang)

The event will celebrate five years since the Vietnamese government recognized Can Tho as a city of the first rank, and include milestones like the inauguration of Can Tho Bridge, Tra Noc International Airport and Cai Cui Port.

The city's focus for the event will be on introducing the achievements and potential of tourism in the Mekong Delta in general and Can Tho in particular.

Through National Tourism Year 2008, the city hopes to attract more investors and tourists, and to improve the standards of service in the local hospitality industry.