Singapore's Skyscanner website has listed northeast Cao Bang province among its Top 5 Unique Treks in South East Asia.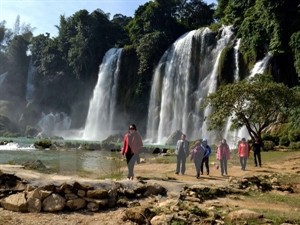 Visitors to Ban Gioc Waterfalls in Trung Khanh district, Cao Bang province (Photo: VNA)
Blessed with numerous mountains, caves and lakes, including the awe-inspiring Ban Gioc Waterfalls with its cascading turquoise waters, Cao Bang is every hiker's dream, the website said.
Covering 6,724 square kilometres, the mountainous province of Cao Bang is now home to many Vietnam's ethnic minority groups, including the Tay, Nung, Dao, San Chay and H'mong.
Cao Bang has several well-known historical interest sites and natural landscapes such as the Pac Po cave, Coi Bin Church and Ban Gioc Waterfalls.
Trekkers can fly to Hanoi then take a 5-hour bus ride to Cao Bang.-VNA