Many travel companies in Ho Chi Minh City are now offering huge discounts on tours on both domestic and foreign destinations for off-season vacations.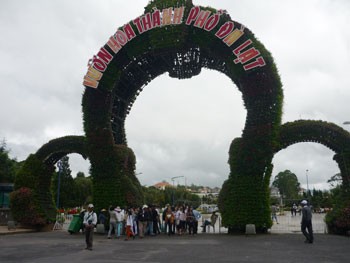 Flower garden in Da Lat City (Photo: KK)
Dat Viet Tourist Company is offering a discount of 25-60 per cent on local tours from now until May 30. Visitors will stay in high-end hotels and resorts in Phan Thiet and Da Lat.
Fiditour is spending VND 1 billion on a promotional programme "Buy 1 get 3 gifts" to attract tourists, both local and foreign. The programme will be launched from February 23 to April 23.
Saigon Tourist will offer a discount of 10 per cent for female tourists who buy tours on International Women's Day (March 8) and local trips from March 8 to May 31. The offer is not open on the Death Anniversary of the Hung Kings (10th day of the third lunar month), Hue festival, firework festival, Reunification Day (April 30) and International Labor Day (May 1).
Viet Travel Company is offering a discount of VND500,000 per female visitor on tours to Cambodia, Thailand, Singapore, Malaysia, Hong Kong (China), China and Philippines on  International Women's Day on March 8. The company has also reduced its prices on domestic tours.