Hundreds of tourists were stranded on Bai Chay port in the UNESCO heritage city of Ha Long when more than 430 tourist cruise boats stopped operations in Ha Long Bay on June 10 because of heavy rainfall the day before.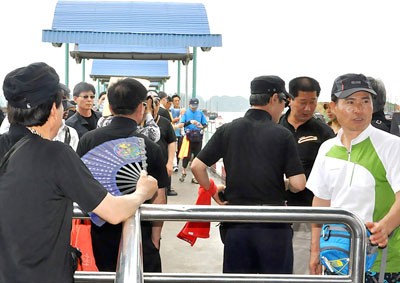 Stranded tourists in Bai Chay port in Ha Long Bay.(Photo:SGGP)
The boat owners claimed that port authorities did not permit the boats to move to ensure visitor safety because of the rainfall on the night of June 9 until early next the. However, even when the weather cleared boat owners still refused to ply their boats.
Ngo Quang Dao, director of Phuong Dong Galaxy Company, said nearly 500 tourist boats had stopped plying because of the latest decision of the People's Committee in Quang Ninh Province to follow strict regulations to ensure traveler safety and equip boats with mandatory fire fighting equipment.
Dao said that boat owners had received the official notice on June 8, while the decision took effect on June 10. There was little time to equip the boats adequately.
Besides cruise boats, Ha Long Bay has many transport vessels for moving minerals and other goods. When the bay is crowded, sightseeing is not a pleasure for tourists and there is fear of collision.