The number of cruiser tourists to Viet Nam is increasing after three years' interruption due to severe accute respiratory syndrome (SARS) and bird flu, according to the Viet Nam National Administration of Tourism,

In the first quarter of 2006, Saigontourist Co. expects to serve over 3,000 tourists from six cruisers, up 20% year on year. It says it will cooperate with cruiser groups, such as Star Cruise, Ameda, and Pacific Venus to offer best services to attract tourists.

Tan Hong Tourist Co. has received 10 groups of cruiser tourists from the U.K, France, the U.S. Germany, Spain and other countries.

More cruiser tourists are coming to Viet Nam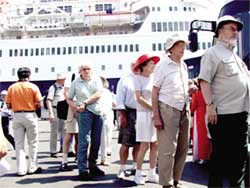 Foreign visitors from a cruiser tour Ho Chi Minh City
Recently, Saigontourist Co. welcomed the cruiser Saga Rubi, with 800 tourists. They visited Ben Thanh Market, Museum of History, the Reunification Palace, the Notre Dame Cathedral, the Ho Chi Minh City Post Office, Giac Lam Pagoda, China Town, Cu Chi Tunnels and the Viet Nam Culinary Center.
They got to know much about Vietnamese cuisine, and then went to markets to learn how to choose ingredients, and practised cooking at the center.
Then they moved to My Tho City in the Mekong Delta. The wealthy tourists went sightseeing by boat along the Tien River, visited Thoi Son islet, local honey-bee farms and coconut candy factories.

Saigontourist had earlier received 300 Japanese visitors to Da Nang during the Lunar New Year holidays.

To travel on these cruisers, tourists need to book tours six to twelve months in advance. The cruising tours in Asia often last from 15 to 20 days. They will stop by big cities for shopping and sightseeing. Besides, there are other cruisers offering longer tours arround the world in three or four months. One of the ships is "The World", described as a floating deluxe hotel.

VIP tourists

Most cruise tourists are pensioners, who have saved a lot of money and have plenty of time to choose long tours. They usually enjoy learning about history and culture, going shopping or relaxing with pleasant entertainment. They are interested in new lands with primitive natural scenery, long beaches and diversified cultures. Most tourist companies say that each of these visitors spends averagely at least US$300 - 400 per day.

According to tourist experts, Viet Nam has great advantages with beautiful beaches, and opportunities to exploit the cruise tourism market.