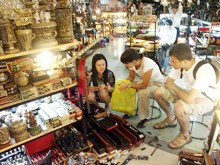 International visitors to the central city of Da Nang go shopping.
The central city of Da Nang will create a shopping street in the city to meet the shopping demands of tourists, announced Director of the Municipal Trade Department Bui Dieu Thanh this afternoon.
The shopping area will be on Hung Vuong Street of Hai Chau District, which is already a well-known street to shoppers. However, this time many new products will be on sale at stores in the area, especially souvenir goods, fashion, fast food and drinks sold at automatic vending machines.
Besides, the department will also build more sites providing cultural and entertainment activities for visitors.
Stores in the area will open daily from morning to 11pm every Saturday and Sunday. During that time, vehicles are allowed on the street.
The launching of shopping area will be held on this Saturday, December 23.